trip to Pittsburgh
So...a few weeks ago, a few friends and i decided we needed a day off from work and a trip to Kennywood...a smallish theme park near Pittsburgh. each of us doing our respective parts to get the day decided off, and as the day approached, the more excited we got...not even to enjoy the CrAzY rollercoasters and yummy funnel cakes, but to just NOT BE AT RUBY MEMORIAL HOSPITAL FOR AN ENTIRE DAY:)
however, as the day approached, one friend's request for the day off was denied and the weather was promising to be s.h.i.t.t.y. (rain and thunderstorms)...so we realized that we needed a Plan B. We decided the rest of us (me, Jourdan and Shannon) were going to still take advantage of our freedom-from-work and while every other theme park in a 3 to 4 radius was either also expecting s.h.i.t.t.y. weather or it was, frankly, just too damn far away...we decided to enjoy the day in Pittsburgh.
Plan B: Go for lunch at the Cheesecake Factory (my personal FAVORITE restaurant) and then either stay in Pitts for a bit, or come back and catch a movie, being joined with our other friend Chris who would be off later that afternoon.
however, little did we know that Plan B would also be adjusted...but just a little
We first enjoyed a F.A.B.U.L.O.U.S. lunch and dessert at the Cheesecake factory. One of the highlights was actually when the waitor, confused that the credit card paying for the meal was to go back to Shannon, the only male at the table, and looking at Jourdan and I, stated, "here you go Ms. DeVall' and then consequently turned bright red when Shannon took the bill-fold from him and we all chuckled at thinking he was one of us women...though, in all honesty, it happens all the time for a guy named Shannon:)
after a great lunch, even though the weather was crappy, we decided to still enjoy being in the city, and stroll down E. Carson St, the 'artsy-fartsy' section of the city's Southside. we enjoyed the Culture Shop, as well as some consignment shops and art shops, though the pet shop which advertized closing sales seemed to already be closed, and Jourdan was sorely disappointed that she could not buy fun toys for her pooch.
after a quick mocha at the Bee Hive, which was actually purchased only to be able to respectably use the restroom, we decided to head home. only to change our minds when Shannon really wanted to take a real tour of the city of Pittsburgh. in researching 'day excursions' he had come across a Pittsburgh tour called Just Ducky which involved a truck boat contraption which took tourists both through the city streets as well as on the rivers surrounding the city. however, at $18 bucks for a hour tour...it was suggested at the time to go another time...or not at all;). however, as we drove on the bridge out of the city, overlooking station square where the Just Ducky tour was stationed, Shannon, somehow, convinced us all to "seize the day and have a little fun". Also, he said he'd pay for my ticket...an early b-day gift...if it would convince me to go along with it.
so, folks...here are some pics of our Just Ducky tour...and can i tell you...OMG...lolhere are jourdan and me...at Station Square...too bad we had missed a Clarks concert there the weekend before..boooo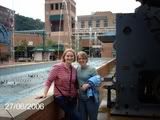 they finally decided to add one more tour ride to the day, and so we got to buy tickets...
and here, here is our Just Ducky Tour ride...our Chariot awaits..
now, don't forget, this vehicle is for land AND water, so safety is super important...Our tour guide Andrew demonstrated how to use the 'flotation devices' just in case of emergency...
stopped at a stop light, passengers of another car found our Just Ducky contraption amusing and agreed to pose for a pic...
PNC park (home to the Pittsburgh Pirates) from one of the bridges. i've had the priviledge of being there TWO times.:) (i think the Pirates lost both times...boo)
wrapping back around, here's the view of the front of the stadium...
as we drive down by the river, here's a view of us in a Land vehicle...
then...
we're a water vehicle...
can you believe they let us drive that thing? here's shannon...
and then it was my turn...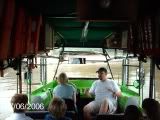 he said i could drive it back onto the dock...but then i realized he was just kidding. i woulda done it:)so...that wraps up my picture story of our trip to Pittsburgh. joking of the 'Just Ducky' tour vehicle aside, it was nice to drive through the city...learn a bit about it and take some fun pictures. however, it was a little embarrassing when we'd be waved at and Andrew, the tour guide would yell into the loudspeaker..."QUACK, QUACK, QUACK TO YOU TOO". he also tried to get us all to 'quack' in the beginning of the ride...i didn't quack.
overall, even though it was VERY gloomy...a great day...:) thanks for the fun jourdan and shannon:)
ps tried to get pics bigger and in the center...but seriously, such a pain in the @$$, these'll have to do